There is nothing quite as thrilling as a game of craps on the live casino floor – expect shrieks of excitement and gasps of surprise. It's easy to get caught up the in rollercoaster ride that is craps, but this is where most players fail as they don't consider the house edge attached the array of bets to choose from. Here's how to play craps like a pro and win.
The Pass Line Bet
With a house edge of just 1.41% the Pass Line bet is your best option. A 1.41% house edge means that you're likely to lose just $1.41 for every $100 wagered – a no-brainer bet.
The Come Bet
Just as with a Pass Line bet, a Come bet also has a house edge of just 1.41%, making it another popular choice of pro craps players.
The Don't Pass Bet
Some analysts rate the Don't Pass bet with a house edge as low as 1.36%, but in reality its closer to 1.40%. However, there are many craps players who see Don't Pass bets as against the grain of game, making it an unpopular, but nevertheless intelligent, bet.
The Don't Come Bet
Just as with the Don't Pass Bet, the house edge of the Don't Come bet is rated between 1.36-1.40%, but it's also seen as against the grain of the game. It's important to remember that the pros don't concern themselves with the opinion of novices – just like with online betting NZ – so be sure to focus on the edge this bet gives you as this is how you ensure success.
Odds Bet
The Odds Bet has a 0% house edge, but there's a catch. The Odds Bet can only be placed once a Pass Line, Don't Pass, Come, or Don't Come Bet is successful, so you'll be able to add more to your bet without having to worry about an increased house edge.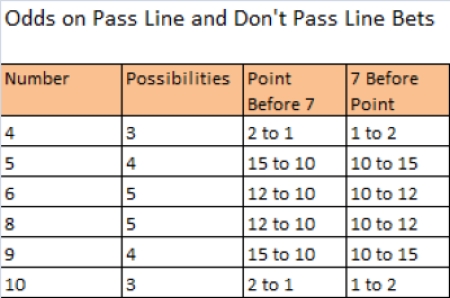 Place Bets
The Place Bet isn't as beneficial to you as the Pass Line, Don't Pass, Come, and Don't Come Bets, but placing 6 and/or 8 is still one of the most intelligent bets available to you. The house edge of the Place Bet on 6 and/or 8 is just 1.52% meaning an expected loss of $1.52 per $100 wagered. Place Bets must be made in $6 increments until the total amount wagered is over $20 and only then is $3 increments allowed.
Don't 6 and Don't 8 Bets
This bet is also known as the 'No 6 & No 8' in that you're betting that 7 will come up before 6 or 8. However, with a house edge of 1.82%, bets of this type aren't very popular. Just as 7 is the strongest number in craps, so are the 7 bets mentioned above. Forget all the others just as the pros have!
Don't Get Carried Away
Craps can best be described as a controlled riot and it's of utmost importance that you don't get caught up in it. Keep your head about you and make intelligent bets by sticking to the 7 bets mentioned above.